There's one universal truth that applies to all businesses using digital marketing in 2021.
It doesn't matter if you're brand spankin' new or have guru status.
Here it is: you need to know how to find content ideas.
It's as simple as that. If you're blogging for your business or posting on social media, you need to consistently put out content.
It doesn't matter whether you're making videos, writing articles, or posting on Instagram.
In order to create content on a consistent basis, you need to be able to come up with ideas for your blog and social posts.
Just search "content ideas" on Google or Pinterest and you'll find post after post that gives you x number of post ideas. But you know the old saying: Give a business owner a list of ideas, and you help her today. Teach a business owner to find her own content ideas, and you help her for a lifetime. Or something like that 😉
So the goal of this post is not to feed you two months of content ideas, but to teach you how to find countless ideas on your own.
1 | Use Google's smart search or the "People Also Ask" feature
Good old Google is so smart that even as you start to type in the search bar, the algorithm is already on the move, supplying you with possible search terms. You can use this to your advantage when brainstorming content ideas.
Let's say you type in "how to start a blog". The search display will show you other related terms that give you a whole slew of ideas like "how to start a blog and make money" or "how to start a blog with no money".
Google also displays a section called "People Also Ask" which tells you what other searches are being done by people who searched this term. "How do bloggers get paid" and "how do I start a blog in 2021" are both other post ideas that you can spin off your initial "how to start a blog" post.


2 | Search for content ideas on Pinterest
Pinterest is another content goldmine. Whether you're writing about chicken or chalkboards, you can find a ton of inspiration.
If you own a business that sells steam cleaners, just look at all the things people are searching for. All of a sudden a steam cleaner is looking like a pretty versatile little tool.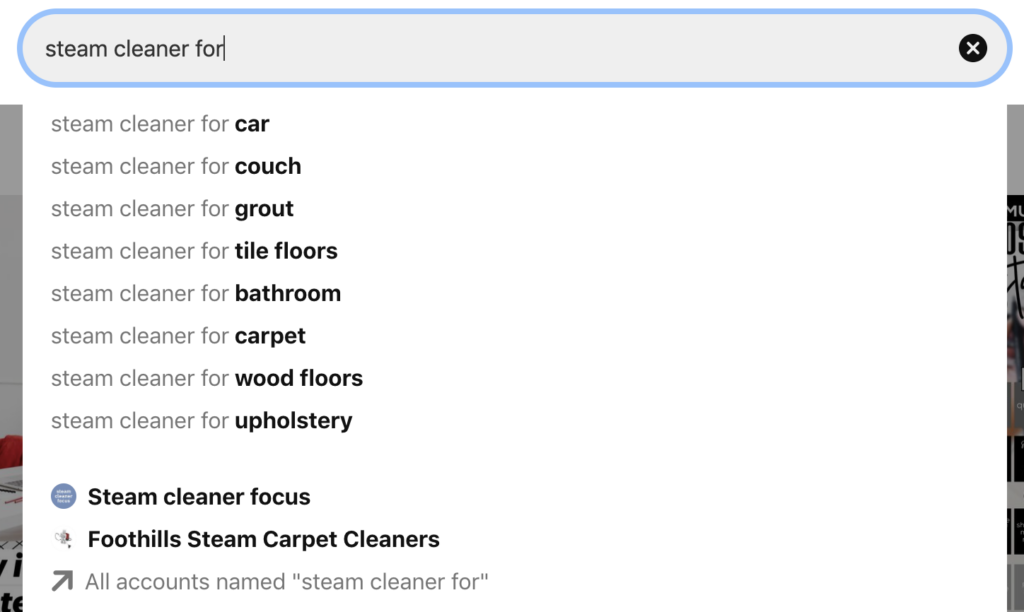 Each of these ideas could be its own post or you could do a giant list post titled something like "20 Things You Didn't Know You Could Clean With a Steam Cleaner".
3 | Listen to podcasts
Hearing someone else from your industry on a podcast can be a great way to inspire your own content. If they have a controversial opinion, you can write about your own perspective on the same topic.
A podcast about industry trends or predictions might help you consider your own predictions. The goal here is to feature your own spin on a topic, not to copy what you hear.
4 | Find relevant books on Amazon & look at the chapter titles
Search for books related to your topic. Choose a book that has the "Look Inside" feature. Take a look at the chapter titles and jot down any that are relevant.
The titles might also give you ideas about other related topics. For example, if you sell natural beauty products you might search for green beauty books. In the book I found, one of the chapter titles is "Become An Ingredients List Expert."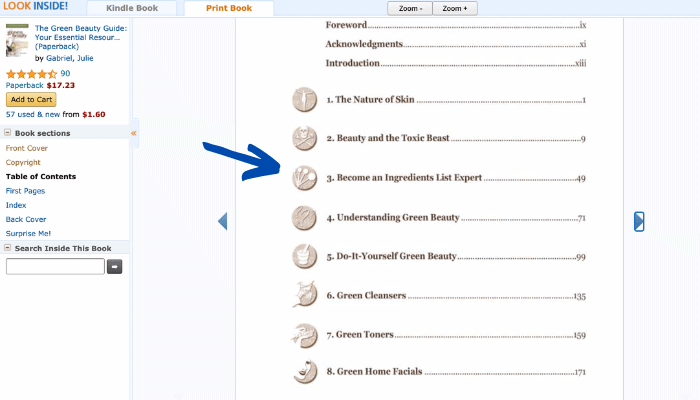 You could turn this into a blog post about how to read an ingredients label. Then you could also create a video for YouTube, Instagram, or Facebook that walks through the process of reading a label.
5 | Ask your customers/audience
The easiest way to find out what type of content your customers want is to ask them.
Social media gives you all kinds of ways to interact with your audience so use it to your advantage. On Instagram alone you can use the poll, question, or quiz stickers in Stories to make it easy for your followers to provide input.
Or do what one of my clients did recently and offer the chance to win a gift card for completing a survey. She shared the survey link with her email list and on IG several times and got a lot of valuable feedback from her audience.
6 | Read other social posts on the same topic and check out the comments
Look at the big accounts in your niche because they should have good engagement. Find a relevant post and check out the comments.
What questions did people ask? What opinions did they voice? Use the comments section as a guide for new blog or social posts.
You never want to copy someone else's content. Instead the comments can show you a gap in the information where you can be serving your audience with fresh content ideas.
7 | See what people talk about in Facebook groups
Look for Facebook groups in your niche then search the feed for topics you want to write about. What questions come up over and over? What makes people feel confused or uncertain?
Too often we focus content on the big picture, for example "How to Organize Your House" when the content people need is on a much smaller level like "How to Organize Your Fridge".
8 | Share case studies and customer experiences
You can show how your business is helpful by sharing specific case studies.* It gives you the chance to show off your expertise through the lens of helping your customer succeed.
You first introduce the customer's problem then demonstrate how your business helped the customer to find a winning solution. Remember the goal is for the customer to be the hero of the story. Your business is the guide.
For example, a busy homeowner was struggling with the appearance of their front lawn. Your landscaping company created an attractive yet low-maintenance design so the homeowner can now enjoy their yard plus free time that they don't have to spend on yard work.
*Be sure to get permission from your customer or keep it anonymous and vague to protect their privacy.
9 | Interview experts in your industry
Interview the leaders in your niche or industry to share their knowledge with your audience. This doesn't have to be someone well-known, just someone with value to share.
Share the interview as a blog post, a video, a live video on Instagram or Facebook or a podcast episode.
Then repurpose the content to be used in a multiple ways. The transcript of a podcast episode becomes a blog post. An Instagram Live can be saved as an IGTV post.
10 | Feature guest posts
There's no rule that says you have to create all of your content personally. By featuring guest contributors, you provide even more value to your audience when you expose them to outside expertise.
You can source contributors for guest posts on your blog or you can set up an Instagram takeover where someone posts in your feed or stories for a set amount of time.
Not only do you introduce your audience to the guest, but your guest should also share with their audience, giving you exposure to new people as well.
11 | Look at the comments section on blog posts (yours and your competitors)
Similar to tip #6 about social media posts, you can also check out the comment section of blog posts to get new content ideas.
People don't seem to comment as much as they used to, but that really depends on the blog and the post itself. Some posts seem to bring out a lot more opinions than others so it's worth checking on relevant posts.
12 | Use Google Analytics to see your top posts and branch off those topics
If you have Google Analytics connected to your site (which you should) you can see which posts draw the most traffic. Look at Behavior then Site Content to see your most popular posts.
Create new posts related to the same topic. For instance, if you have a popular article about your favorite smoothie recipe, a new post could focus on the protein powder that you use.
Add a link to the protein powder post within the smoothie post and you've created a way to keep your audience on your site longer.
13 | Get off the internet and look at magazines, books, and newspapers
There's zero reason that your only source of content inspiration should be online. Monthly magazines are a great way to check out current trends and newspapers are obviously focused on current events and issues.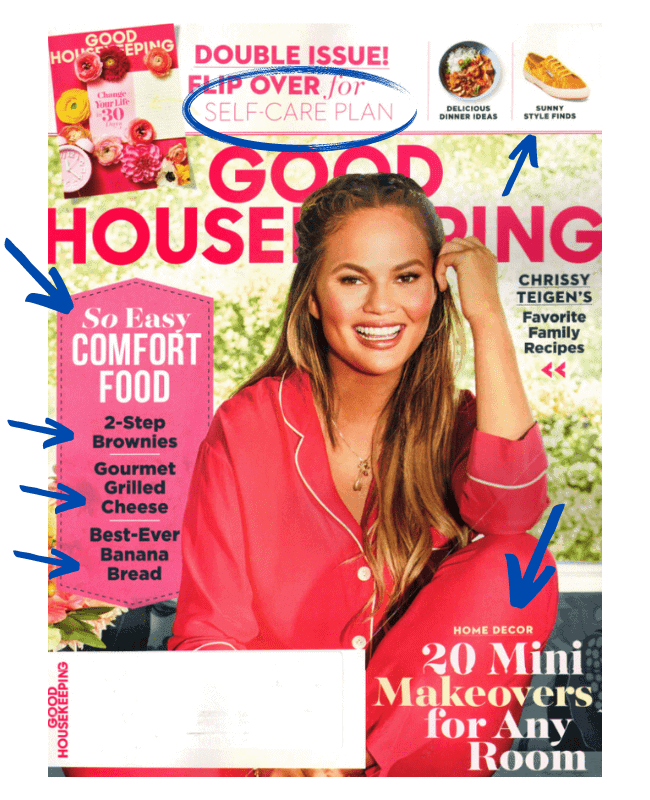 Books also hit on popular topics. Because books are long form content by nature, they can provide you with lots of ideas for articles (short or long) and social posts.
14 | Search outside your niche or industry for fresh content
Looking to other industries for inspiration might seem strange at first, but sometimes we're so deep in the weeds of our own niche that we can't think up new ideas.
Let's say you're an esthetician brainstorming blog post topics. Instead of "common skincare problems" try searching "common lawn care problems".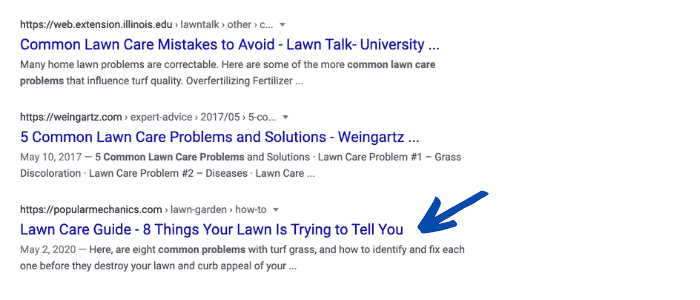 Check out this title reimagined for your niche: "Skin Care Guide: 8 Things Your Skin is Trying to Tell You".
15 | Look at the headlines
According to copywriter Ted Nicholas, 73% of all purchasing decisions are made at the point of the headline. So spend some time looking at headlines of the top Google search results for relevant keywords.
Not only is this showing you what's trending for the topic, but how the headlines are written. Are they how-to posts or list posts? Does the headline use a number? How many words is in the title?
You can analyze this data to help you write better headlines for your own content, as well as to gather ideas for new content.
16 | Subscribe to relevant newsletters
By subscribing to the newsletters of thought leaders or experts in your industry, you get extra access to their opinions and insights. Not only can they help you identify trends in your niche, but they can inspire your own opinions.
You can also analyze the newsletters that arrive in your inbox for strategic insights. For example, which subject lines pique your curiosity versus the subjects that don't provoke you to open an email? How frequently do they send emails? How long is the email text?
This is all valuable info for your own content marketing, especially if you represent your ideal customer.
17 | Read the 2-3 star reviews on Amazon books for ways it was lacking or missing info
Find relevant books for your product or niche on Amazon and scroll to the review section. Often the 2-3 star reviews will tip you off about ways this particular book falls short.
If a common complaint is a lack of examples, that tells you that the audience is looking for more concrete information. Creating posts with tangible examples addresses that need.
18 | Search Twitter
Use Twitter to see what people are saying about a specific topic or keyword. Once you've found some relevant posts, read the comments and retweets.
Just like scanning Facebook groups or the comments section of popular blog posts, you can see where people need more detail or have further questions.
19 | Update old posts with current news/data
You don't always need to create content from scratch. In fact, repurposing content is a great way to save time and energy. Chances are slim that your audience sees every piece of content you put out so spreading it across platforms is a way to get more exposure.
An old blog post can be updated with current info and reposted. Take the updated info and turn it into an Instagram post or an email to your subscribers and link to the full blog post.
20 | Search online forums
Online forums like Reddit and Quora cover hundreds of thousands of topics. Search a topic and keep a running list of all the questions that users have posted.
Answer each question in a separate piece of content or group similar questions together. For example, an esthetician could post an Instagram carousel featuring five common questions about microneedling.
21 | Respond to FAQs
Chances are you get a lot of the same questions on repeat in your business. Turn those questions into content by providing the answers in a blog or social post, even if you already have an FAQ page on your website.
While potential customers won't always take the time to investigate a question on their own, you might gain new followers by addressing these common questions.
For example, if you're a plumber, make a quick video tutorial on how to easily unclog a garbage disposal and when to call an expert. If someone tries the steps in your video with no luck, they'll know who to call.
22 | Follow industry blogs and respond to news and/or trends in your industry
Keeping up on industry changes is always a good idea. By following well-established blogs in your niche, you'll not only stay relevant but you'll have a steady stream of relevant content.
Read about a new trend in your field? Post about the trend on Instagram and share your opinion or recommendations. It shows that you're both knowledgeable and current.
23 | Check out YouTube
Search YouTube for videos about your topic or keyword. Choose a video with a decent number of views. Look at the sidebar for the list of related videos.
A quick search of "Instagram reels for artists" pulled up videos about Instagram strategy and hashtag tips for artists. Even without watching any of the videos, you now have three solid topic ideas for multiple forms of content.
The Bottom Line
Between blogging, video, email, and social media, it's easy to get stuck on the content hamster wheel. Even if you're smart about repurposing your content you need to be able to consistently come up with new content ideas.
Give some of these tips a try and let me know how it goes. Which tip will you try first?